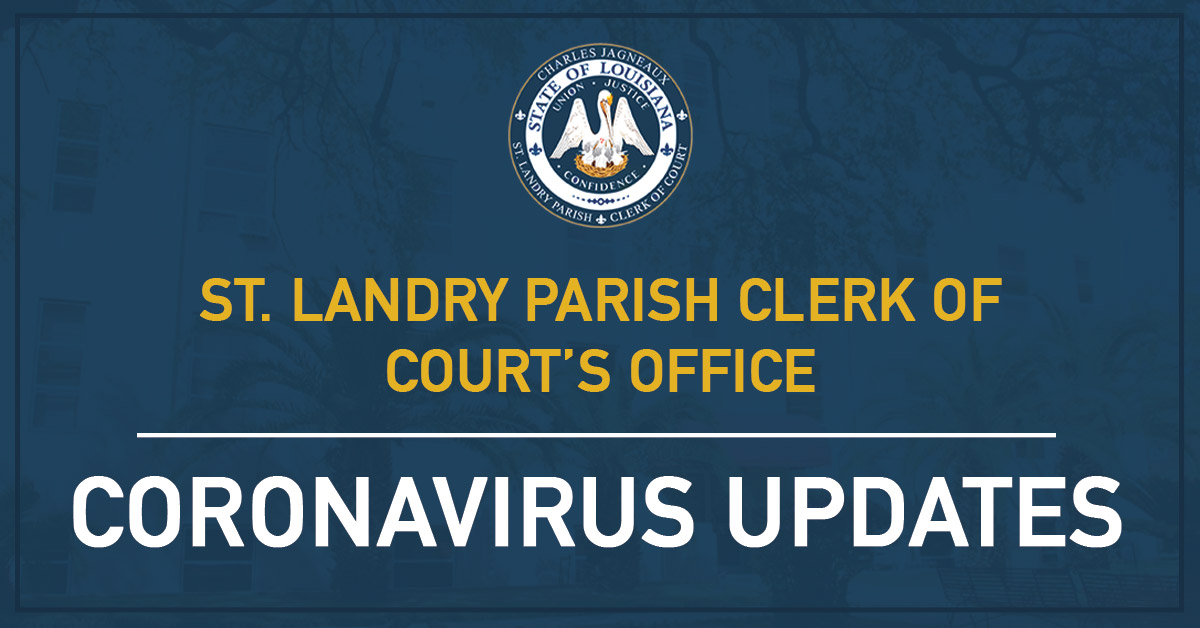 Coronavirus Updates
Due to the present State of Emergency caused by the COVID-19 coronavirus pandemic, the following are changes to access the services provided by your Clerk of Court office.
COURT FILINGS are only accepted by mail, by FAX, or by placing them in a depository located in the Courthouse lobby.

RECORDINGS are accepted by depositing them in a receptacle located in the Courthouse lobby or by mailing them with the proper fee to P.O. Box 750, Opelousas, LA. 70571. (Please refer to the recording fee schedule on the Clerk of Court Website).

RESEARCH in the recording department can be done at the Courthouse in Rm. 37 in the basement or preferably online by filling out the "DOCUNET" form on the website.

MARRIAGE LICENCES may be obtained by appointment only by calling 337-942-5606, Ext. 28. No one will be admitted without an appointment.

BIRTH CERTIFICATES OR DEATH CERTIFICATES will not be issued by the Clerks office. Call the Dept. of Vital Statistics at 504-593-5100 for info.

PROTECTIVE ORDERS are handled at the Courthouse. The security guard will direct you to the proper office. Information can be obtained by calling the Clerks office (337-942-5606 Ext 129).

OATHS OF OFFICE may be sworn before an attorney or Notary Public then mailed to the Clerks Office at P.O. Box 750 Opelousas, LA. 70571.

PASSPORTS will not be issued until further notice.

ELECTIONS The April 4,l 2020 Presidential Preference Election has been postponed to June 20, 2020. The May 9, 2020 General Election has been postponed to July 25, 2020.

JUDGE'S OFFICES ARE CLOSED TO THE PUBLIC AT THIS TIME AND THE COURTHOUSE IS LIMITED TO 10 PEOPLE AT ONE TIME. ALL CIVIL AND CRIMINAL TRIALS, HEARINGS AND COURT APPEARANCES ARE CANVELLED THROUGH APRIL 13, 2020 BY ORDER OF THE SUPREME COURT
---
Judges' offices are closed to the public at this time and access to the courthouse is limited to 10 people at a time. All civil and criminal trials, hearings and court appearances are cancelled through April 13, 2020 by Order of the Supreme Court of Louisiana.
This specifically includes the following:
Judge Meche's criminal rules set for March 26, 2020 (reset for April 23, 2020)
Judge Meche and Judge Caswell's civil rules set for March 30, 2020
Judge Meche's misdemeanor pre-trials scheduled for April 1, 2020 (misdemeanor trials remain set for April 24, 2020)
Judge Doherty's criminal rules set for April 2, 2020
Judge Doherty and Judge Harris' civil rules set for April 3, 2020
Traffic matters set for April 6, 2020
Judge Meche's criminal docket sounding and pleas set for April 7-8, 2020
Judge Caswell's civil jury selection set for April 7, 2020
Judge Caswell's criminal rules set for April 9, 2020
Non-support appeals set for April 9, 2020 before Judge Meche
Judge Meche's criminal jury selection set for April 13, 2020.
The judges will continue to hold 72-hour magistrate hearings ("morning lineup") daily via the court's closed-circuit television system.
No bench warrants will be recalled through the judges' offices at this time.
Other emergency matters will be scheduled on a case by case basis.